"I have never had a minute of doubt about the importance of the PREA legislation and the need for these standards, and I wanted in on the ground floor of their implementation in community corrections. In my view, compliance with PREA is a moral obligation, not just a legal one."
—Denise Robinson, President and CEO, Alvis House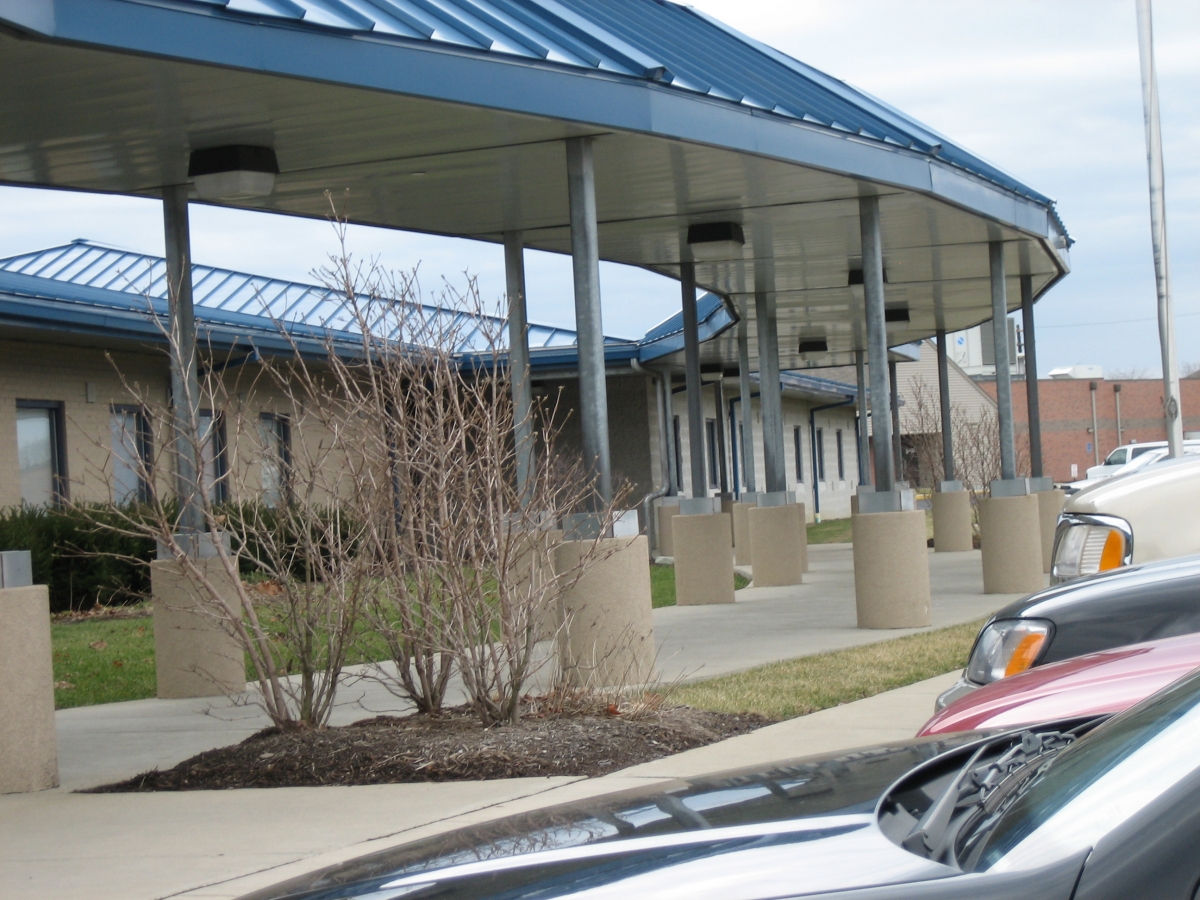 Alvis House, a nonprofit human services agency in Ohio, has been at the forefront of residential community corrections agencies planning for PREA implementation. In 2007, Denise Robinson, president and CEO of Alvis House and then the immediate past president of the International Community Corrections Association, testified before the National Prison Rape Elimination Commission on the duty of community corrections agencies to protect their clients from sexual abuse. Under Robinson's leadership, Alvis House has implemented numerous policies and procedures aimed at protecting clients from sexual abuse and fully embraced the recently released PREA standards. Starting with a strong zero-tolerance policy toward all forms of sexual abuse, facility directors and staff work to ensure all aspects of the agency's sexual abuse prevention and response efforts create a culture of zero tolerance. These efforts include:
Comprehensive staff training and client education;
Use of intake screening information to determine room assignments and develop individualized plans for clients;
Multiple channels for clients to report abuse;
A two-pronged approach to sexual assault response, using clinical client assistance teams (CATs) and administrative sexual assault response teams (SARTs); and
Physical plant vulnerability assessments and targeted use of video-monitoring technology.
As Alvis House works to comply with the US Department of Justice's PREA standards, leadership will continue to assess operations, plan for change, and implement policies and procedures. Leaders are currently researching staffing and hiring practices, planning for ways to implement more frequent background checks, and changing employee verification procedures.
Facts About Alvis House and Timeline of PREA Events
Alvis House has two divisions: one serving individuals and families involved in the criminal justice system and one that provides services to individuals with developmental disabilities.
Operates a total of 23 locations that serve more than 7,000 people a year.
No secure, locked-down facilities.
More than 300 staff and more than 460 residential community corrections beds.
Nine residential facilities located throughout Ohio.
Programs use a research-based, integrated treatment approach.
Typical length of stay in Alvis House residential community corrections programs is 90–120 days for clients without specialized mental health needs or developmental disabilities.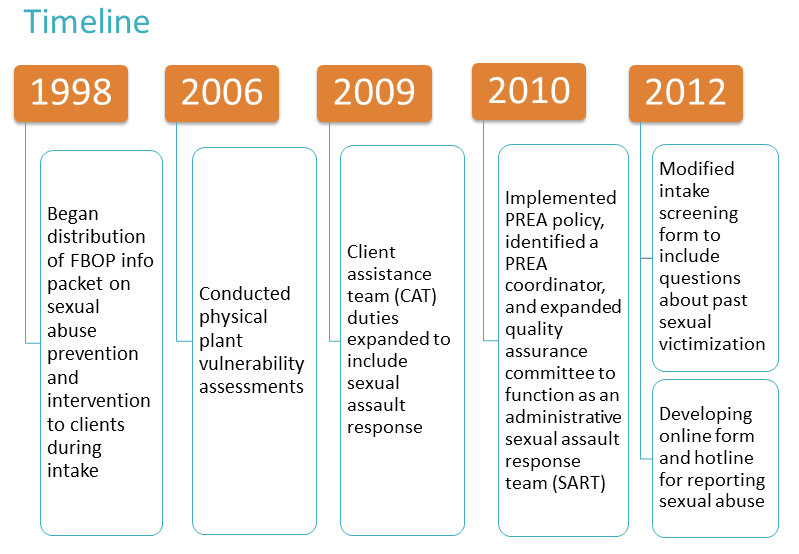 Keeping PREA in Perspective
At Alvis House, client safety has always been a priority, and leadership and staff approach PREA as one more way of ensuring a safe, healthy culture. Like many in corrections who have embraced PREA, Alvis House leaders employ current best practices in community corrections to help combat sexual abuse. For example, Alvis House uses gender-responsive classification and treatment tools, motivational interviewing techniques, and individualized case management practices to run safe facilities. By leveraging Alvis House's existing policies and practices to help prevent sexual abuse and improve response when it does happen, leaders have established a nimble system that prioritizes staff training and clear policies and procedures to protect the safety and well-being of clients.
As Robinson explains, "PREA just formalizes and establishes uniform standards to: prevent sexual abuse; provide avenues for reporting sexual abuse; establish support systems for victims; investigate and respond to allegations of sexual abuse; and train staff, clients, and vendors in how to prevent, recognize signs of sexual abuse, and report."
By taking this straightforward approach of working with what they have, rather than creating entirely new structures and systems, Alvis House has been able to assess its policies and operations according to the requirements in the PREA standards, plan for changes, and implement those changes in stages.
Alvis House's PREA Efforts
This section highlights some, but not all, of the efforts Alvis House has made to embrace PREA. These useful and, at times, innovative practices may be helpful to other community corrections agencies as they consider how to comply with PREA.
Staff Training
Alvis House leadership counts its employee training structure and process as one of the most effective tools the agency has for preventing and responding to sexual abuse. All new employees attend training during orientation week that covers:
The agency's zero-tolerance policy on sexual abuse/assault/harassment toward clients and staff;
Specific procedures for documenting and reporting allegations of client or employee sexual misconduct; and
The agency's Code of Ethics, which explicitly prohibits staff forming personal relationships with former clients for the first two years after clients complete the program.
Additionally, residential program staff are required to complete in-service training as follows:
Staff must complete a minimum 40 hours of annual in-service training, which includes training on sexual abuse prevention and response. This helps ensure that residential staff stay current on all mandatory and critical processes and procedures and also reinforces the agency's commitment to protecting its clients' physical, emotional, and mental health.
Alvis House has implemented weekly "Back to Basics" training in mandatory staff meetings. The "Back to Basics" training takes the form of dialogue and discussion on different PREA-related topics and allows staff and treatment teams to explore different client issues, needs, and possible solutions on an ongoing basis.
Alvis House leaders credit this training with helping to keep staff "at the ready" when it comes to sexual abuse, given how infrequently incidents occur.
Client Education
Clients receive a comprehensive information packet upon admission to Alvis House. This packet covers sexual abuse prevention and intervention and affirms the client's right to be safe from sexual abuse as well as the client's right to confidentiality and privacy. It also directs clients on how to seek medical help, explains the investigative process, lists counseling programs for victims of sexual abuse, and lists who to contact if a client is sexually abused. After learning about these policies at intake, clients have the opportunity to discuss them in depth with their case managers or in house meetings, which take place every other week.
Intake Screening
Since the late 1990s, clients have completed a health care screening during their initial intake into Alvis House. The current screening questionnaire has evolved over time to include questions about gender, sexual orientation, and prior sexual victimization. Once completed, treatment teams—comprising the facility director, clinicians, parole and probation officers, case managers, family members (if the client chooses), and any community providers working with the clients—use the results to develop individualized treatment plans for each client. These individualized treatment plans include room assignments, programs, trauma response, and mental health care. While the health screening questionnaire helps staff consider potential risk factors for sexual vulnerability or aggression, Alvis House is also in the process of developing a specific screening instrument for risk of sexual abuse.
Reporting
Alvis House has made a concerted effort to ensure clients have multiple ways to report sexual abuse. During client orientation, staff let clients know they can report verbally to any staff member. Alvis House has a hotline to report sexual abuse, and clients can also call 9-1-1 directly to report. Additionally, the client handbook, which all clients receive, outlines the grievance procedure, which clients can use to report abuse. If a client reports an incident of sexual abuse through the grievance system, the facility manager immediately reports it to the PREA coordinator, human resources, and/or the vice president of programs. The complaint is then transferred out of the grievance system, and the CAT, SART, and law enforcement are notified.
Another particularly innovative reporting mechanism currently under development at Alvis House is an online form for reporting sexual abuse/harassment. The form, currently in draft, eventually will be available publicly on Alvis House's website and accessible to clients and third parties who might want to report sexual abuse on a client's behalf. The form includes fields for basic information about an incident, and the user will receive an automatic response upon submitting the form with the PREA coordinator's contact information.
Finally, Alvis House administers satisfaction surveys to clients twice during their stay—once during the middle of their stay and again upon release. The survey gives clients an opportunity to report anonymously any abuse, mistreatment, or complaints they have. Survey results are sent to the director of quality assurance who aggregates the data and presents it to the vice president of operations, associate vice president of communications, and president. They review the data and take any necessary action.
Client Assistance Teams and Sexual Assault Response Teams
When the National Prison Rape Elimination Commission issued its recommended PREA standards in 2009, Alvis House determined its Client Assistance Teams (CATs), comprising clinicians and designed to prevent and respond to suicides and homicides, were the most qualified bodies to respond to client victims of sexual abuse, as well. When a report of sexual abuse is made, the facility manager (or manager on call, if after business hours) contacts a designated CAT member, reports to the PREA coordinator, and notifies law enforcement. The CAT member immediately makes direct contact with the victim, evaluates his or her needs, and informs him or her of the options and resources available for treatment and healing. The CAT member also accompanies the victim to the hospital if a forensic medical exam is indicated.
The CAT member reports his or her assessment of the incident and the victim's needs to the PREA coordinator, who convenes an administrative sexual assault response team (SART). The SART, which evolved out of a quality assurance committee, includes the vice president of clinical services (a licensed psychologist), vice president of operations (PREA coordinator), vice president of agency programs (residential facilities), director of accreditation, program directors (residential facilities), quality assurance/staff development coordinator, volunteer coordinator, and the associate vice president of communications. The SART reviews the entire incident to make sure agency policies and procedures were followed and to determine what went well and what improvements should be made for future cases. The SART discusses the details of the case and reviews the CAT's assessment to make sure the victim is safe and receiving appropriate treatment. It also looks at whether criminal investigators were able to substantiate the incident. If policy or protocol changes are required as a result of these reviews, the SART has the authority to make changes. Recommended changes are drafted and presented to the agency president for consideration.
Video-Monitoring Technology
When Alvis House began conducting physical plant vulnerability assessments of its residential facilities in 2006, it found a number of unmonitored, potentially vulnerable areas. Leadership worked with facility directors to relocate existing cameras and widen the angle of view to minimize blind spots, but also chose to invest significant resources in purchasing additional cameras for residential facilities. Alvis House also installed and upgraded DVR systems, which has enhanced security, accountability, and transparency by:
Increasing recorded video capacity from two weeks to 30 days; and
Providing facility directors with remote access to facilities 24 hours a day.
Alvis House has also used cameras to assist local policing efforts to curb illegal drug activity around some of its residential facilities. Recognizing that some facilities are located in communities with high drug-related activity, the agency placed cameras outside those facilities. Because Alvis House recognizes the connection between drug use and risk of victimization, particularly for its female clients, it views its partnership with law enforcement as part of the broader efforts to prevent sexual abuse.
Q&A with Denise Robinson, President and CEO of Alvis House

Q. From your PREA work to date, what advice can you share with residential community corrections practitioners who are just beginning to review the standards and grapple with compliance?
A. The first thing I would say is: Don't panic. Many of the best practices that have been implemented throughout community corrections—such as gender-responsive classification and treatment, motivational interviewing, and case management—have all contributed to effective prevention and response to sexual misconduct, even though they were not instituted in direct response to PREA. So you are already further along than you think you are. 
Agencies should do a self-audit of their current policies and procedures compared to the PREA standards. When they do, they will realize that many of their existing policies and procedures can be enhanced, and they don't need to reinvent the wheel. I don't know of any organization that does not have a basic policy against sexual harassment. This can serve as the baseline for assessing what it would require to comply with the PREA standards, and they can go from there. The likely challenges will involve communicating client rights and options upon entry to your program, and being clear that this is a serious issue without appearing to encourage frivolous, unfounded claims against other clients or staff.
My other piece of advice is don't create a PREA bureaucracy; the focus should be on establishing a system that flows quickly and keeps the safety and well-being of clients at the forefront of all agency policies and procedures.
Q. Which of the PREA standards should a community corrections agency tackle first?
A. Before an agency tackles any standards, its leadership needs to make a commitment to the importance of becoming PREA compliant, and leadership needs to be vocal about this support. There should be no question in the agency about leadership's high level of commitment to client care and meeting the PREA standards. Then, leaders will need to review staff and appoint a PREA coordinator. The best fit for this position is likely someone with human resources experience, because those individuals are generally well-versed in how to handle sexual harassment, discrimination, and related issues in the workplace. Next, an agency should conduct an assessment of its current policies compared to the PREA standards. When the assessment is done, an agency will have its "to-do" list to meet the PREA standards.
Q. As you continue to work toward compliance with the PREA standards, what challenges do you anticipate facing? How do you think you will overcome those challenges?
A. Right now, there is a lot of information and interest in becoming PREA compliant. We are talking about it a great deal at the agency and have revised some staff training materials, client care procedures, and added reporting mechanisms specific to PREA. However, our history tells us sexual assault within our programs is very rare. One challenge going forward will be to maintain a level of readiness in the absence of events.  
Another challenge not specific to PREA is money. There are costs to implementing some of the standards. For example, PREA requires criminal background checks at a higher frequency than we had been doing in the past, and there are costs that go along with conducting additional background checks. We have overcome that challenge by being proactive and working ahead to ensure we build those costs appropriately into future budgets. That also helps us to look at different ways to meet the standard as efficiently as possible. Specifically with background checks, we have committed to purchasing new technology, which has a high up-front cost but will save us money over the long term.
We have also addressed monetary concerns by carefully looking at what we already have in place and how it can be adapted to meet PREA standards at little to no cost.
Alvis House Resources
Additional Resources
Preventing and Responding to Corrections-Based Sexual Abuse: A Guide for Community Corrections Professionals by Carrie E. Abner, Jane Browning, and John Clark